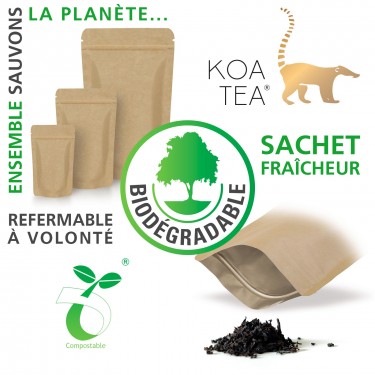 TRooibos is a plant exclusively cultivated in South Africa. This shrub's leaves are red. Harvests take place during the first three months of the year. Leaves are then crushed, chopped and oxidized. Rooibos is naturally theine-free and can be consumed at any time of the day.
Citruses found in this blend bring a tangy and spicy sweetness that will keep you warm in every season. This infusion will create a generous and comforting climate for a powerful tasting.
Ingredients
Rooibos* 80%, lemongrass*, lemon peel* 4%, natural flavors, orange peel* 2%, marigold flowers*.
Steeping Instructions - Warm water version
Quantity : 15-20 gr/litre
Brewing Time : 7-10 min
Brewing Temp : 100 °C
Steeping Instructions - Cold water version
Quantity : 20 gr/litre
Brewing Time : 2 hours at least
Remove rooibos and put the drink in the fridge
Certification
Organic production
Certification according to the European regulation of organic farming.
Certification Ecocert FR-BIO-01.
Packaging
100 gr (40 cup) ou 50 gr (20 cup) – Resealable freshness bag (longer shelf life).
A unique taste experience
Koatea® is located in the Forez region in France. Professionnals and passionate amateurs of teas and infusions travel the world searching for teas, lapachos, rooibos and infusions with unique taste and flavor. Thus, all delivered products are breathtaking. Self-evidently, teas and infusions are brought from their countries of origin such as Japan, but assembled in France. For an even more authentic experience, our products are sold in bulk. That is something we feel strongly about in order to limit our impact on the planet. Moreover, bulk selling allows us to chop leaves less, which implies a better quality of teas and infusions. These precious tea leaves and infusions are saved in resealable biodegradable pouches. By our sides, you can benefit from a longer tea shelf-life and commit to the Environment at the same time.
All products selected by Koatea® are sophisticated exclusives coming from the world's best plantations. That is how our product lines are submitted to tea, infusion or rooibos passionate connoisseurs. For the best accomodation of these perfectionists, Koatea has to offer products that will meet their expectations in terms of taste and flavor. All of our teas and infusions are developed in the respect of the proper rules. Our teas' and infusions' ingredients offer sumptuous but balanced taste. The aromatic palettes are complete, allowing every customer to find his or her must-have. Plant extracts are naturally couloured to make you live a prestigious moment.
In this way, you will find a suitable drink for every moment of your day. There are beneficial properties in every offer we can make. Therefore, your cup of tea or infusion becomes not just a delightful experience but also a real health break you can no longer live without !
Now it's our job to make you appreciate tea !